I have come in Grace
Softly, turning inward
To the heart song of God
Ever singing the Divine tone
In constancy and invitation.
I have come again
And again
Turning inward to Self-reliance
To the Source of all Being.
I have come in quietude
Singing the heart song of glory
And shining.
I have come in Grace.
-Miriam Platt
---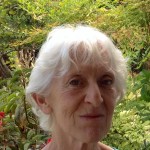 Miriam Platt is both an Attunement Practitioner and Reiki Master and teacher. She has a deep love of both disciplines and the practical spirituality that is inherent in offering them. She lives and works at Gate House Spiritual Centre in Cape Town, South Africa.
---