---
Conscious Creation at Edenvale, 2017
When: July 21, 2017 9:00 AM to July 23, 2017 5:00 PM
Where: Edenvale Retreat, British Columbia, Canada
+Favorite Event
---
Twenty-five people joined us in the Attunement Gathering for a full and satisfying time. We appreciated Phil Richardson and Ruth Buckingham being with us, both in the preparation time and the facilitation of the event. Marilyn Manderson's input was shorter, but no less appreciated. This year the theme of Conscious Creation was useful as an anchor point all the way through, along with the Attunement cards and a variety of other resources and attunements in several forms.
We had a sub-theme of Working with Fire. In that respect, we had Jane Duncan and Julie Bohnet on the phone, and Dave Oshanek unexpectedly with us at Edenvale. They all were having different experiences with the wild fires in British Columbia. Phil and Ruth brought their experience of losing all their possessions in a warehouse fire. All of these people experienced loss and uncertainty with a common theme of doing what needs to be done in an attitude of determination and looking for creative ways to serve.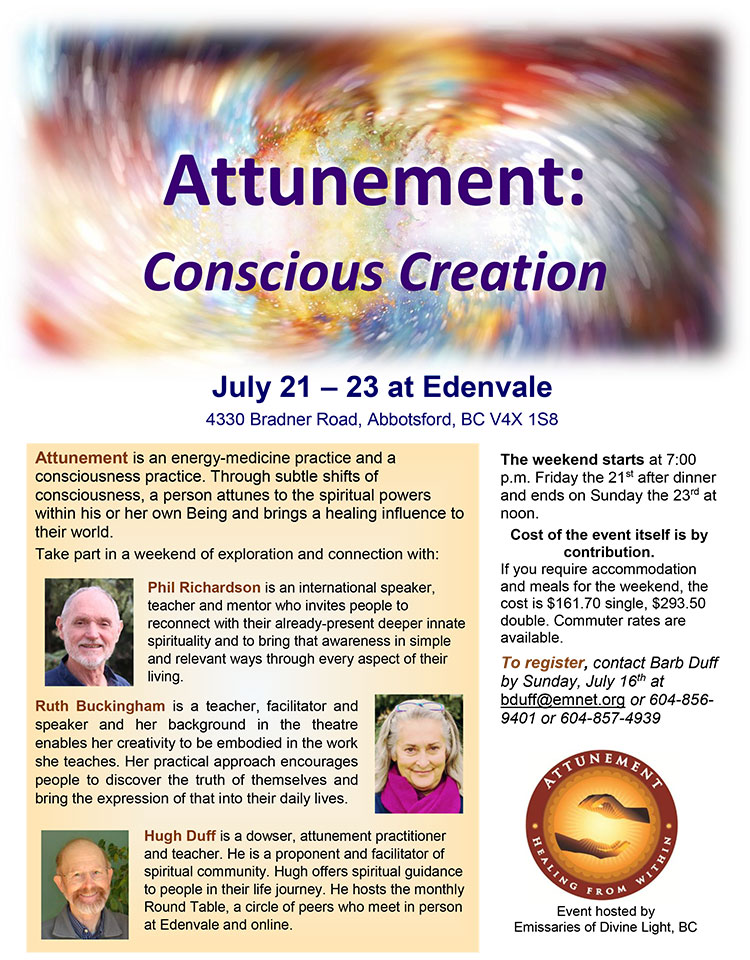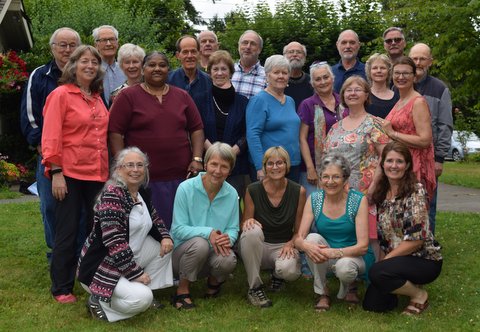 We broadened the consideration, using small groups, PowerPoint slides and healing chant to work with Attunement: Conscious Creation. Many of the sessions were fresh and experimental. Journaling, mandalas and creating a radiant statement were employed from a sovereign stance during our time together. The sessions went deep, stirring hearts while generating excitement, friendship and satisfaction.
The fruit of the Attunement Gathering came out in the tremendous Sunday service. We learned a new song taught by a Joanie Wolfe and shared in five participants' radiant statements. Barb, Ruth, Phil and Hugh spoke followed by a lively service expansion and of course ended with an attunement circle. The theme Attunement: Conscious Creation was no longer just a theme but had become a real experience among us.
---