This morning while in the Sunrise Ranch Sanctuary, I gave some thought to what the word sanctuary means. One definition is "a building set apart for holy worship." In this sanctuary space I can see stained glass windows, a fireplace, several comfortable chairs and couches and plenty of reading material that may be used for mediation or reflection on spiritual matters.
In this sanctuary there are also four small rooms where attunements are shared with conference guests, residents and other visitors. My recent meditation, on the process of Attunement, has taken me to looking out windows to view the myriad colors that decorate this landscape during Fall. Autumn does provide its own kind of visual sanctuary, where we can relax our eyes away from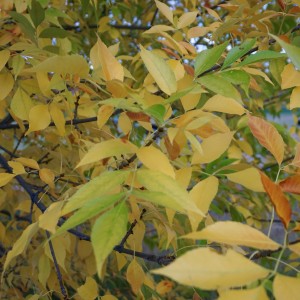 computer and TV screens and enjoy the variety of shapes and colors that come forth so abundantly now.
There is another kind of sanctuary which can be built within the human form or experience. It is the sanctuary of what can happen in my or your consciousness for the people who come to us.They can come to us in thought or heart or physically and we can offer a place in consciousness where they are safe from all the slings and arrows of isolation, fear, greed etc. Attunement times are times when consciousness and body can be "rebuilt" step by step to accommodate fresh insights and experiences as to how the eternal spirits of love, truth and life can move more freely within our own forms and upon the earth in ways that are not restricted by beliefs and concepts.
Here are some questions that I will be asking myself over the next few days to deepen my understanding and experience of sanctuary and attunement.
What can change in me and my world to help provide Attunement and Sanctuary for others?
How do I invite others into the sanctuary of my consciousness?
How can I more fully bring sanctuary to my place of work without imposing anything on others?
These and other questions you and I formulate and answer through the quality of our living will be the perfect way in which more attunement and sanctuary manifest in our troubled world.
-John Flood
---
by

John Patrick Flood John Patrick Flood is a native New Yorker who has worked and lived in such diverse places as Saudi Arabia, Ireland and the Sultanate of Oman while teaching Special Education, English as a Second Language and Life Purpose coaching. He currently resides and works at Sunrise Ranch in Loveland, Colorado as the Program Manager for Donor and Member Relations and as an attunement teacher and practitioner. John has Master degrees in Special Education and in Nonprofit Management. "My passion is to use my teaching, coaching and photography skills to deeply know and connect the pioneering expansiveness of my Spirit with all." His photography has been exhibited at Al Madina Art Gallery, Bait Muzna Gallery and Muscat International Airport in Oman and some of it graces homes and businesses throughout the USA, Europe and the Middle East.