This Week's Quotation:
This morning we saw the vital importance of right attitude. A right attitude was defined as an attitude based in love. Any attitude that is not based in love, that is not harmonious to the nature of love, is a wrong attitude. We noted how customary it is for human beings, no doubt ourselves included, to justify wrong attitudes. It is always possible to find reasons for holding a wrong attitude. We considered the matter of fear, resentment, jealousy; we could name many, many attitudes which human beings assume, in their own eyes justifiably. As long as a person can justify himself in assuming a wrong attitude he is not being honest. We see a great many dishonest people around about us, and probably we see another one when we look in the mirror….

As long as we do not assume that we know already what love is but recognize that we only have a starting point, we are all right. We can move from that starting point.

~ Martin Cecil
An Attitude of Love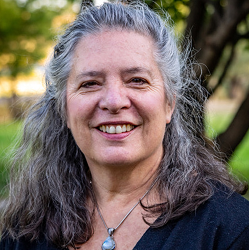 Isn't it wonderful to know there is always a starting point available? And always more to learn. If we find ourselves justifying wrong attitudes of resentment, anger, fear, or jealousy, we can return quickly to love. Begin again. Ease our struggle and offer that radiant love into our world.
I am sure we are all familiar with the downward spiral. It may begin with anger, then evolve to resentment. It becomes easy to find things that justify our attitude and prove we are right. There is no joy or blessing there. We can justify our wrong attitude, but if we have had the victorious experience of letting Love radiate without concern for results, we know we are not being honest with ourselves.
As an attunement server, we deliberately center ourselves and connect with the spirit of love before we begin the attunement. We acknowledge the source of our being and that of the one we are to serve. This practice is valuable even as we do our daily work—we begin each task with the right attitude and see what changes.
This is a good practice when we feel a wrong attitude coming on!
When I follow this practice, I have found I see things differently. I am filled with a spirit of gratitude and generosity. I see potential and opportunity. With a wrong attitude, I see limitations and obstacles. A friend of mine says, "Attitude makes the difference between an ordeal and an adventure."
Let us discover the many facets of Love waiting to be known. Take a breath in and give thanks for the moment. We are both blessed and a blessing when our attitude is based in love.
What Is Attunement?
Attunement is a consciousness practice and an energy medicine practice that leads to personal spiritual regeneration.
Please follow and like us: